Dynamos is a new programme from the ECB, in partnership with the Hundred, aimed at 8-11 year olds as a follow on from All Stars Cricket!!
Recently launched at national roadshows across the country, Dynamos Cricket is the programme to complement existing junior cricket/club pathways and provide a format that allows children to 'Learn to Play'.
It will be an 8-week programme full of fun warm-ups, game based skill builders, and games of countdown cricket! Everyone that signs up will receive a personalised New Balance t-shirt with their name and number on the back. They will also have access to the Dynamos mobile app and some excellent Money-can't-buy experiences!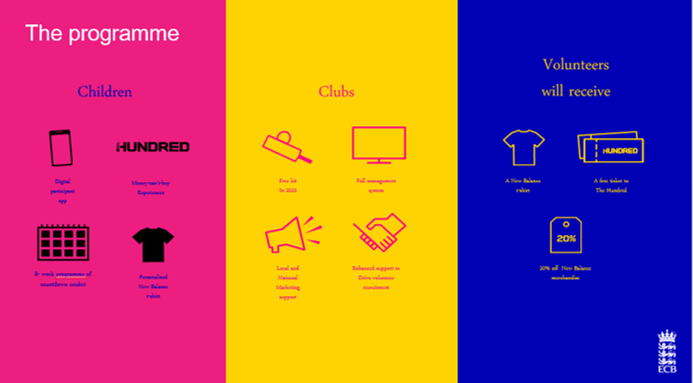 What do clubs get?
Any clubs that decide to run the programme in 2020 will receive free Dynamos branded kit in order to run their sessions. All sessions are already planned and are accessible through icoach cricket, leaving you with more time to run the sessions!
Dynamos cricket has linked up with Spacehive, a crowd funding platform that provides a space for raising additional funds for your club. By signing up to dynamos your club will receive £100 from Spacehive to help you get the ball rolling!
What about Volunteers?
People who volunteer to help out and run Dynamos at clubs will receive a New Balance Activator t-shirt, a free ticket to The Hundred, and 20% off New Balance merchandise.