Darley Dale Cricket Club are running a great initiative, not only to help their club during this difficult period of no revenue or cricket being played, they are also supporting 2 local charities. The club's players and members, both junior and senior will be running a virtual challenge race throughout the month of June.
Stuart Rudkin of Darley Dale CC said: "Opening bat and keen runner Jonny Shaw came up with the idea.  If he could not actually score runs, he thought why not set up a virtual race to reach a century of miles instead.  That way players could still collect runs, boosting their moral and mental health and maintain contact between club members without any cricket.  It was suggested that people sought sponsors to raise some money which could be shared between the Club and local NHS and mental health charities.  The widest range of members from U10s and their parents to veterans have signed up and it is creating a buzz around the club that has been missing without the weekly match routine.  We have also been able to tie it into the ECB's Together through this Test initiative and thanking key worker members of the Club".
Some of the details of the event are:
Senior event:
Run/walk 50 or 100 miles during the month of June
Junior event:
Run/walk 50 or 100 kilometres during the month June
Tracking your mileage:
Download the log book and using pen and paper log your runs and then submit weekly mileages to info@nice-work.org.uk, or at the end of your challenge.
Leader boards will be updated weekly from the 5th June.
Fundraising:
Please get your friends and family to sponsor by creating a JustGiving page and choosing Darley Dale Cricket Club to fundraise for (www.justgiving.com/darleydalecricketclub)
The money raised will be split between the following three causes:
Darley Dale Cricket Club – to helping cover fixed costs with no bar revenue
Matlock Hospital League of Friends (www.mhlof.co.uk/) – helping to support the Whitworth Hospital and the NHS
Greenaway Workshop (greenawayworkshop.org.uk/) – supporting local people who are unable to return to full employment due to physical or mental disability.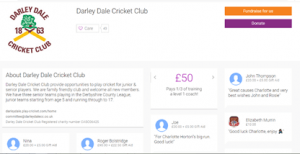 There is a group dedicated to the event on the popular running app Strava and we encourage people to share their runs with DDCC's Facebook and Twitter accounts. "I think our junior players and members will be both excited and motivated to bring up their fifty and century milestones", Stuart Rudkin, Junior Cricket Coordinator. All participants will be awarded a medal to reflect their efforts. Such is the reach of this initiative, former DDCC player and former Derbyshire Women's captain, Charlotte Horton will be taking part from Qatar!
The challenge is open to everyone and the club encourages participants to raise funds by creating a JustGiving page. To help their fundraising effort, please go to: www.justgiving.com/darleydalecricketclub
DDCC Chairman, Andy Topley had this to say about the event, "We want to bring our cricketing community together during this challenging time and allowing people to share and talk about their performances will hopefully do this".
This is fine example of a cricket club making a difference in the community and is great to see! Particularly during a time when the cricket club itself may be suffering from depleted revenue's during what should be its busiest time of year!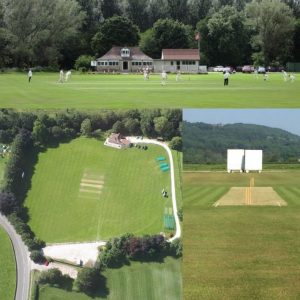 Well done to Darley Dale CC and to everyone involved on this challenge!
If your club is doing a similar challenge, helping in the community, or undertaking any fundraising, we would love to hear about it! Let us know and get in touch with Charlie.storr@dcfcricket.com or contact us on social media!
Share this post