Derbyshire Women v National Asian Cricket Council Invitational XI
Wednesday 6th July 2022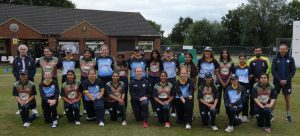 This inaugural T20 fixture between the 2 sides was held at Derby Congregational Cricket Club on an overcast and slightly chilly July evening.
Both teams fielded young sides with the NACC debuting a 12 year old Mariam Khan and Derbyshire giving well deserved debuts to 2 of their U15 players, Priya Kondratiuk and Phoebe Arthan.
NACC won the toss and chose to bat on a well-prepared flat wicket.
Venus Weerappuli and Rhia Sedha opened the innings and added 19 before the partnership was broken by Phoebe Arthan who claimed her first senior Derbyshire wicket, Rhia Sedha lbw for 5. Phoebe also followed this with a run out, after initially being beaten by the ball spinning away from her, she quickly recovered causing confusion with the NACC batters, running out Venus Weerappuli for 16.
There were 2 further run outs in the innings, by Georgie Harrison and Emma Lou Proctor, highlighting the standards the Derbyshire Women place on their aggressive fielding.
The NACC innings failed to achieve any momentum due to the consistently good areas the Derbyshire Women bowled. Jessica Thatcher took the new ball and picked up 2 wickets with her swing bowling, backed up by the quality off spin of Adrianna Darlow. Georgie Harrison impressed with 3 overs, 3 maidens and 2 for 0 with Megan Pitman showed off her incredible keeping skills stood up to the stumps for Georgie's medium pace, taking a County class stumping to dismiss Farida Bibi.
All of the Derbyshire bowlers were economical in their spells and this was a reflection of their success earlier in the season which saw them reach Finals Day of the ECB T20 Competition.
Perhaps the highlight of the innings was the welcome return to the Derbyshire side of Jessica Bakewell. Having made a dash back from Lords that afternoon she managed to impress in the field for all of 3 balls before unfortunately a sprint round the square leg boundary saw her display her uncanny ability to injure herself, resulting in her lying face down on the turf with the ball stationary by her side. Thankfully there were no major issues and after being helped to her feet by the coaching staff she observed the remainder of the innings safely seated on a chair on the other side of the boundary rope.
The NACC innings totalled 60 from their 20 overs with a mid-innings partnership of 22 between Mariam Khan and Venus Weerappuli adding some respectability.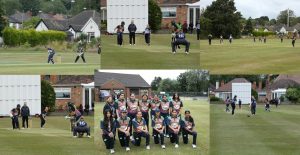 The Derbyshire side set about their run chase with the same positivity and aggression on which they pride themselves on.
Megan Pitman's experience and class as an aggressive top order batter saw her punch several boundaries to the point and cover boundaries off the back foot, as well as hitting cleanly down the ground to long on. Megan was ably supported by Lara Shaw, who has impressed this year not only with Derbyshire but with Lightning Cricket also. Lara exhibited her usual positive intent with her punching down the ground to long on, pulling through mid-wicket and her stylish sweeps. The pair quickly took away any chance the young NACC bowlers had of causing a shock with a 50 run partnership off just 31 balls. Megan striking at 211 and Lara 117, despite the best efforts of Mariam rotating her bowling options with seam, off spin and leg spin.
The game was played competitively but respectfully between the 2 sides and will have provided a good learning experience for the younger NACC players as they move on to future fixtures this summer against other opposition.
Derby Congs hosted the event incredibly well and we must pass our thanks to Nazaqat Ali for all of his hard work and determination to make this fixture happen.
The evening was concluded with an amazing hot buffet meal for players, officials and spectators and closing comments by local dignitaries applauded the efforts and importance of Women and Girls from all ethnic backgrounds accessing cricket in a welcoming, inclusive environment.
With such a positive intent in and around the room there was a feeling that undoubtably this fixture will grow in stature over the coming years, with both sides keen to continue to use this as a flagship to celebrate equity and diversity not only in Derbyshire but across the game as a whole.
Our final thanks to all of the coaches on the evening, the umpires, scorers, groundstaff and the catering team, all of whom contributed to such a worthwhile event.
Share this post