To mark the end of a memorable season for the U11s, all players from both the Development and Performance squads were invited to the final intra-county day, held at Duffield CC on Tuesday 30th August. The weather was perfect as 38 excited players, accompanied by a good crowd of family members assembled for the day's activities.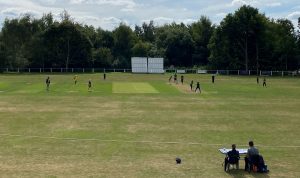 We had use of both pitches and so were able to split the girls into 4 hopefully evenly matched teams – imaginatively named A, B, C and D by Sonja (it was getting late!), each team being managed and umpired by one of the coaches – Georgie, Emma, Jess and Suzie. We were also joined by 3 younger siblings (Betsy Taylor, Martha Ford and Bea Swan), all nominated for U11 next season, and getting their first taste of Derbyshire U11 cricket today to even up the numbers in the teams. The chosen format for the day was One Hundred ball cricket – now familiar to most of the girls; many of whom had been at Trent Bridge the previous day watching the Rockets.
On the front pitch, Team A, lead by Ruby Swan played Team D, lead by Poppy Ward. Team D batted first and got off to a flying start with Poppy and Ava scoring freely. Edith Hutchinson broke the partnership by bowling Poppy for 19. This brought Teagan Gill into bat who got off the mark with a boundary and then continued to attack the bowling. Ava and Teagan both retired on 30 and 32 respectively. The fielding side then started to get back into the game with a wicket for Cecily and a runout. Edith and Cecily shared the wicket keeping. Team D finished on what turned out to be the top score of the day at 129 for 3. Team A got off to a tricky start to their batting innings due to some fine bowling from Ava who took 2 wickets in the first 2 sets of 5 and Lizzie Skingle who took the 3rd wicket. Anika, batting number 4 and Edith batting number 9 were the only 2 to make double figures. Freya Edwards finished with the best bowling figures taking 3 wickets for 7 runs, and Martha Ford took her first wicket. It was an excellent performance from Team D to restrict Team A to 71 all out.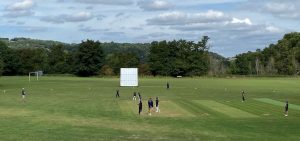 On the back pitch, Team B lead by Phoebe Blurton took on Team C, lead by Penny Tanner. This was a very exciting game which could have gone either way with Phoebe's team benefiting from our decision at the start of the day to play "last man stands" and winning off the last ball by with the required runs scored by Phoebe herself who'd batted through the entire innings, timed her arrival at the retirement score of 30 perfectly so as not to have to retire and was indeed "the last man" finishing on 35 not out.  Team C had some good batting performances, particularly from HanaMae Carr, retiring not out on 30 and Scarlett Adey not out on 19. Flo Taylor bowled well, removing the dangerous Penny Tanner early on, and debutant Betsy Taylor took her first wicket. Kyrie-Anna and Jess Cusack shared the wicket keeping for Team B. Apart from Phoebe's excellent batting performance for Team B, Kyrie-Anna also scored well reaching 11 and Jenna Carrington-Lowe scored 5. Team C were good in the field and achieved 4 wickets by runout. Square leg umpire Nick Taylor won the "honest dad of the day award" by giving out his own daughter Betsy, runout by 6 inches on her debut, without even facing a ball. Aaargh!! Wicket keeping was shared by Penny Tanner and Autumn Beavan.
After lunch, the winners of the first 2 games; teams B and D played each other on the front pitch.
Opening bowlers for team B, Flo and Phoebe wreaked havoc amongst the team D batters dismissing Ava and Teagan early on. Captain Poppy Ward held firm, eventually also falling to Flo for 22. Lizzie Skingle and Norah Smith scored 5 each, and Violet Langley, Kyrie-Anna, Eva Ryder and Jenna Carrington-Lowe all took wickets. Team D finished on 86. Team B then batted really well, with standing some accurate bowling, only losing 1 wicket, which was Flo who was run out for 11. Captain Phoebe retired on 20, followed by Kyrie-Anna and Olivia Whitby retiring on 12 and 15 respectively to give everyone the opportunity to bat. The winning score of 87 was reached with 1 ball to spare. Thus team B were the winners of the day – well done to them!
At the same time, the third place play-off game between Team A and Team C was underway on the back pitch.  This time, Ruby's team A got off to a better start batting first with Ruby retiring on 21. Anika Verma also retired on 21 enabling Cecily Wright and Isla Webb to have a bat towards the end of the innings both finishing not out on 4 and 3 respectively. A score of 89 was set for team C to chase down. Unfortunately team C got off to a difficult start, losing captain Penny to a great ball from Ruby. Autumn Beavan and Scarlett Adey then battled on for another 50 balls or so, with extras doing most of the scoring! When Scarlett was out bowled by Hannah Reast, Autumn retired as well to give others in the team a chance to bat. No one was able to increase the scoring rate enough to reach the required total though and further wickets fell to Edith Hutchinson and Isla Webb, leaving Ruby's team A as winners.
Very many thanks to the parent helpers – Sandeep Verma and Rowena Beavan for scoring all day, and to Simon Hadfield, Matt Ward, Nick Taylor, Lizzie Skingle's dad and Laks, Siya's mum, for umpiring at square leg.
After the games, we all gathered in the pavilion for an end of season fuddle! Families bought all manner of food, including hot samosas, sausages and a vast array of crisps and cakes – there was  even some healthy salad and fruit! DCF contributed delicious hot pizzas from Domino's. A couple of short speeches were made – by Sonja to round up the season and by Ruby Swan, who captained the team for many of the games, to thank her team mates and coaches for a great 3 years in the U11s. All in all it was an exhausting, enjoyable and excellent end to a fine season for all the U11s and it was great to see the Development team girls playing with and competing against the Performance team girls. Roll on winter training and good luck to the Year 6s as they move into senior school and the DCF U13s.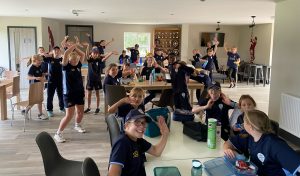 The teams were as follows:
Team A: Ruby Swan (captain), Cecily Wright (WK), Edith Hutchinson (WK), Elsa Maronge, Hannah Reast, Emilia Hadfield, Isla Webb, Anika Verma, Bea Swan
Team B: Phoebe Blurton (captain), Kyrie-Anna Shelton (WK), Jess Cusack (WK), Flo Taylor, Eva Ryder, Olivia Whitby, Violet Langley, Jenna Carrington-Lowe, Betsy Taylor
Team C: Penny Tanner (Captain & WK), Autumn Beavan (WK), Daisy Flindall (WK), Siya Srinivas, HanaMae Carr (am only), Scarlett Adey, Holly Woodward, Emma Foster, Emily Pitchford, Bethany Walsh (pm only)
Team D: Poppy Ward (Captain & WK), Ava Ford (WK), Jess Rayson, Heidi Marsh, Olivia Crombie, Freya Edwards, Lizzie Skingle, Norah Smith, Teagan Gill, Martha Ford.
Share this post