The England and Wales Cricket Board have recently announced a strategic partnership with Initial Washroom Hygiene to bring period dignity to grassroots cricket.
Here at the Derbyshire Cricket Foundation, we are extremely proud to be running the pilot programme, and the roll out of the measures to 8 clubs in the Derbyshire area who have regular girls' teams playing has already started.
Charlie Storr, Women and Girls Development Officer here at the DCF, said: "We are extremely grateful to the ECB for choosing us to run this pilot programme here in Derbyshire. It is a fantastic opportunity for some of our clubs to be a part of this and to be the first clubs in the country to have access to this exciting offer for their female members.
The majority of our chosen clubs have already had their products installed and we will be getting out to see them over the coming weeks and speak to the clubs about how important this initiative is for the Women and Girls game."
These dispensers provide free and discreet access to period products within the toilet cubicle, so crucially for those who menstruate, at the point of need.
Tammy Beaumont, England Women's cricketer and a member of the Women's Health Group, said: "We want as many girls and women as possible to feel that cricket is a game for them – and in order to do that we need to ensure that everyone is comfortable, and everyone feels supported. Whether you're playing at club level or for England, you shouldn't need to worry about anything other than your performance and enjoying yourself. Being on 'your period' shouldn't hold anyone back from participating in and having the confidence to enjoy cricket and hopefully, this partnership will help deliver on that."
You can read more about the ECB and Initial Partnership HERE
Keep an eye out for more news about this programme over the coming weeks, as we will be getting out to clubs to speak to members about this exciting opportunity and growth in the game.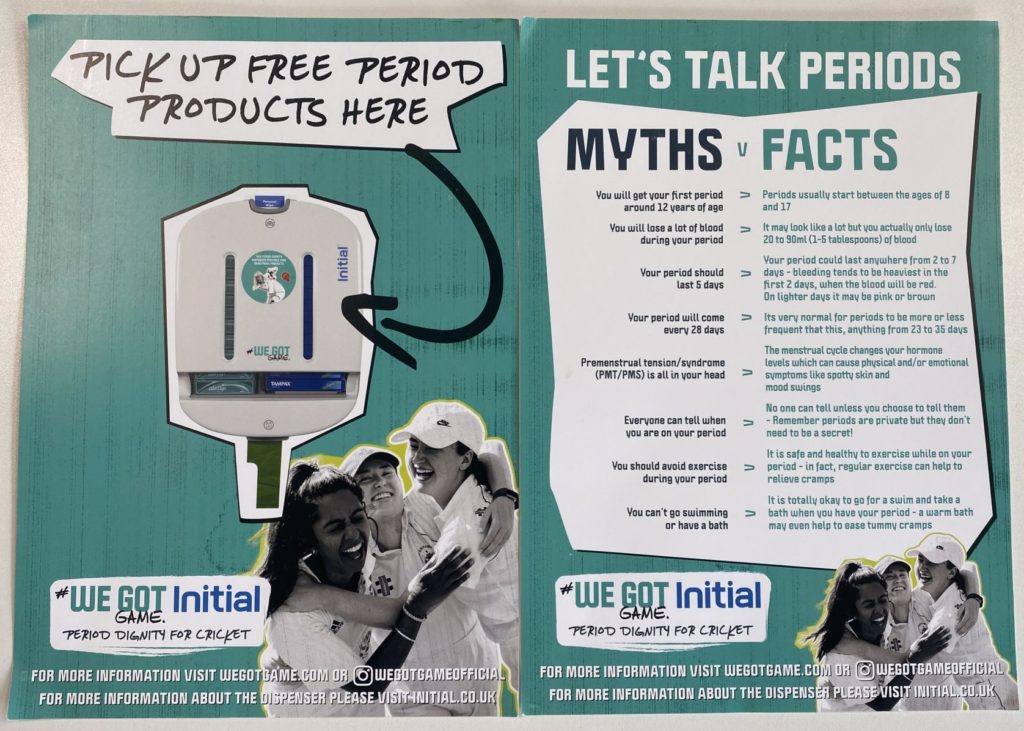 Share this post