Derbyshire Cricket Foundation (DCF) is making clear its commitment to cricket being a game where everyone should feel welcome!
The DCF is launching a consultation exercise to involve participants and volunteers across Derbyshire in identifying actions to help make cricket more welcoming and inclusive. Our 'Game for Everyone' commitment (below) will form the basis of the 2024 DCF Equity, Diversity  Inclusion (EDI) Plan, but we want your input to help identify the actions that will make the biggest difference across cricket in Derbyshire.
Richard Wood, Managing Director of the DCF, said, "Widening participation in cricket has been a long-standing priority of the DCF, and clubs across Derbyshire have done some fantastic work to support this.
However, we know that there is still more to do. Recent surveys of women & girls and young people across the county have highlighted some of the challenges we still face, and the recent Independent Commission for Equity in Cricket (ICEC) report pointed to some significant issues that the game still needs to address to combat discrimination, and make accessing the game more equitable and inclusive."
The 'Game for Everyone' commitments we are publishing today reflect that this is a key ongoing priority for the DCF. We have made excellent progress in developing and implementing our EDI plan over the last three years, but now is the time to accelerate our work in this area , by bringing our 2024 plan to life and giving people across Derbyshire an opportunity to have their voice heard and help shape the plan. We are therefore seeking feedback on these commitments, and actions we should take in support of them. We really hope as many people as possible take this opportunity to make their views count," said Richard.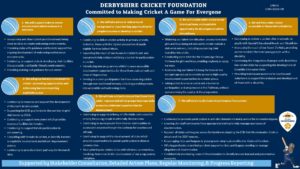 Please click here to download a copy of the 'Game for Everyone' Commitments
We would love to hear your feedback. You can provide us with feedback either through the anonymous on-line form below, or by expressing an interest in joining an in-person or virtual workshop/meeting during the months ahead. details of how you can provide input are below
To register your interest in joining a consultation workshop/meeting please complete the form below:
Share this post