On Friday 12th August we hosted our annual Grassroots Cricket Volunteer Awards. On what turned out to be one of the hostest days of the year, we welcomed 90 of Grassroots Cricket Volunteers to the Incora County Ground to enjoy some hospitality at the Derbyshire vs Hampshire Royal London One-Day game with Derbyshire just narrowly losing by 2 wickets.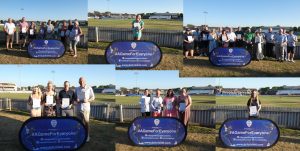 With only a few weeks left in the 2022 season, it has been another fantastic year for cricket in Derbyshire. The number of cricket games played in Derbyshire is up by 30% compared to the same time in 2019. Over 60 clubs have delivered All Stars and/or Dynamos programmes, welcoming over 2,500 children between the age of 5-11 into the game. Clubs have secured funding through ECB Inspired to Play Grants to extend the cricket season for junior players into the summer holidays. We have seen an increase in the number of coaches trained compared to previous years. None of this is possible without all of the amazing volunteers working tirelessly to provide opportunities and keep our clubs alive. It's no surprise that we had over 130 nominations into this years Grassroots Cricket Volunteer awards.
After a great day of cricket, a Q&A with Derbyshire Legend John Wright and a beautiful buffet lunch, it was onto the awards.
Richard Wood got the awards ceremony underway by thanking all our volunteers for giving up their time to support the development of cricket in Derbyshire. Choosing a winner in each category was not an easy task given the number and quality of nominations. Many congratulations to everyone who was nominated, especially our winners. Everyone at The Derbyshire Cricket Foundation appreciates all you do for recreational cricket in Derbyshire The winners of each category can be found below:
Coach of the Year: David Jordison, Sandiacre Town CC
Connection Communities: The Mulligan Club, Mental Health Charity and Eckington CC
Cricket Innovators: Adrian Head, Riddings CC
Game Changer: Lauren Harris, Belper Meadows CC
Growing the Game: Stuart Baddeley, North Derbyshire Junior Cricket League
Inspired to Play: Cathy Harris, Matlock & Cromford Meadows CC
Lifetime Achiever: Dave Fern, Lullington Park CC
Outstanding Contribution – Services to Coaching: Ray Mullaney, Matlock & Cromford Meadows CC
Rising Star – James Wayman, Darley Dale CC
SafeHands Award – Phil Bennett, Mickleover CC
Unsung Hero – Angie Marriott, Sandiacre Town CC
Volunteer Grounds Management – Shane Sweeting, Riddings CC
Young Coach of the Year – Aaron Bardsley, Charlesworth & Chisworth CC.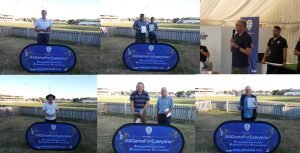 There were also 3 special awards on the evening. One to Jon Sailsbury for his outstanding service to Umpiring in Derbyshire, as well as recognition awards for Chris Hartley and David Jepson for their service to Derbyshire Cricket Board/Foundation for the last 9 years. Both Chris and Dave have served as Directors for 9 years, Chris as Chairman for the last 6 years and Dave as Finance Director.
We are always delighted to welcome, celebrate and reward our Derbyshire volunteers, so if you think someone's contribution at your club deserves recognising, please nominate them for an award in 2023!
Share this post