Adaptations for all outdoor cricket activity, applicable to players,spectators, volunteers, clubs, coaches & officials in Step 4 of the ECB Return to Cricket Roadmap
ECB has maintained a constant dialogue with the Department for Digital, Culture, Media & Sport (DCMS) throughout this process and we have prepared a plan to support clubs and individuals as they prepare for the return of recreational cricket, including details of adjustments which should be made to respect hygiene and social distancing requirements.
That plan – available here– covers a number of areas of the game, including:
Pre-match adaptations regarding transport and symptom checking.
In-game adaptations applying to social distancing measures, hygiene, match officials and the use of equipment.
Post-game adaptations, including the potential use of club facilities.
Advice for coaches specific to individual sessions and junior cricket.
To support this, please also find here an eight step infographic, and an infographic for pre-match, in-game and post-game adaptations here.
The ECB have also produced a useful FAQ's document in response to the many questions that have been raised in relation to the guidance. The FAQ's can be found here
ECB Guidance on preparing your clubhouse and grounds
The ECB have finalised and released guidance on preparing your clubhouse and grounds for when recreational clubs can return to playing cricket in England. The date of which, as we have outlined, is still to be confirmed.
The Government position has however, been updated to allow the opening of bars and food/drink facilities. Clubs, if they wish to, can begin offering this from 4th July. Within the ECB's latest guidance, you can seek information on how to safely offer this to members and visitors.
This guidance includes information for those clubs that wish to open their bar and provide any food or drink facilities in accordance with UK Government guidance from 4th July.
Please also find here a download to the Action Checklist and the COVID-19 risk assessment template here. These documents can be adapted to individual circumstances and used to inform discussions with your facility provider about safe opening (which may include discussions with Local Authorities or education providers).
The ECB has identified five steps for the proposed phased return of the recreational game in England this summer.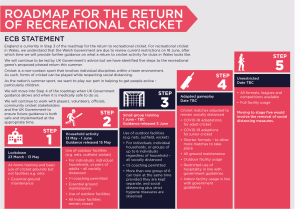 England is currently in step 3 – which allows for small group training sessions of up to six people while respecting social distancing. (Click here for small group guidance)
As cricket is a non-contact sport that involves individual disciplines within a team environment, forms of the game can be played while respecting social distancing. We will continue to be led by UK government advice and will only move into step 4 when the guidance allows and when it is medically safe to do so.
Download a shareable infographic of the roadmap.